Book Review: Life of Pi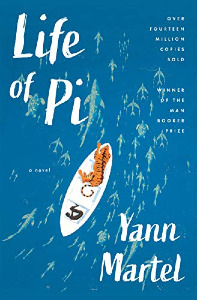 Life of Pi is an acclaimed fiction novel written by Yann Martel. The riveting tale is "a story to make you believe in the soul-sustaining power of fiction," according to the Los Angeles Times. While this book depicts a life very different from my own, it touched my soul and I'm sure it will touch yours too.
The story begins in Pondicherry, a former French colonial settlement in India. We follow protagonist Piscine (Pi) Molitor Patel in what at first seems to be a normal adolescent life. Pi is the son of a zookeeper and was given his infamous nickname after memorizing extensive digits of the infinite numerical figures of pi. Pi tells readers the story as he looks back on one of the most pivotal moments of his life. In an attempt to leave India in search of better financial opportunities, Pi and his family head to Canada via ship. In an unfortunate turn of events, the ship sinks, killing Pi's parents and his only sibling. Shortly after, Pi realizes he isn't alone on the lifeboat he finds himself on, but that he is accompanied by a tiger among other animals. Pi finds himself on a remarkable journey. "Survival had to start with me. In my experience, a castaway's worst mistake is to hope too much and do too little."
Martel's profound writing style is what made this book so special. He made the story feel so human, by the end I almost felt compelled to believe the book was nonfictional. That, in turn, made me question the idea of truth, and what that meant in this book. Like Pi says, "the world isn't just the way it is. It is how we understand it, no? And in understanding something, we bring something to it, no? Doesn't that make life a story?"
There were two great things that I took away from this book– first, was a new deep love and respect for nature. Martel regularly incorporated very descriptive language to paint a picture of the world that surrounded Pi. He showed his care for all aspects of the world he created, from the stars in the sky to the fish down below. Second, I learned that hope is something that lives inside us. "With the very first rays of light it came alive in me: hope. As things emerged in outline and filled with colour, hope increased until it was like a song in my heart." It was difficult to experience the sadness and melancholic moments in this book, but I felt that Martel always alluded to this idea of continuing even if it hurts, especially when it hurts. The book itself made me question my own life, how I: always have food and water at my disposal; always am surrounded by family and friends; and don't constantly live in fear for my life. Life of Pi makes you look around and appreciate the life you get to live and experience an unmatched feeling of gratitude.
Life of Pi by Yann Martel is worthy of its praise. The 2002, this fiction novel won the Man Booker prize and spent 57 weeks on the New York Times bestseller list. The story transcended my idea of religion, wildlife, and humanity. Martel created something special, something important, and something definitely worth reading. "And so, in the Greek letter [pi] that looks like a shack with a corrugated tin roof, in that elusive, irrational number with which scientists try to understand the universe, I found refuge."