Book Review: It Ends With Us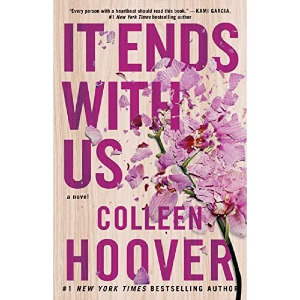 Colleen Hoover's It Ends with Us is a standalone romance novel. The slow burn story follows Lily Bloom, a 23-year-old college graduate, as she begins her new life in Boston where she meets neurosurgeon Ryle Kincaid. After some unconventional encounters, they eventually fall in love. However, over time Lily and Ryle's relationship becomes complicated. What will happen when Lily meets her first love again, Atlas Corrigan, who is the owner of Lily's favorite restaurant Bib's?
Just as her life seemed too good to be true, she found herself in a similar position as her mother had been in, an abusive relationship with Ryle. Although she always vowed to never be in a domestic violence relationship, she found herself in one and could not find a way to leave.
The book is truly heartbreaking. It contains a lot of mature content, such as domestic abuse and violence from a first person perspective. Sometimes love can be complicated and this book shows us exactly that. Lily struggles with facing and accepting the reality of her relationship: that it is no longer healthy and was becoming both toxic and abusive. Although it took too many situations in which Ryle would rage and act physically violent, she eventually chooses the safety of herself and her pregnancy to leave her partner.
If I learned anything from this book, it would be how women in domestically abusive relationships can feel conflicted between somebody they love and their own well-being. Domestic violence is more complicated than people make it out to be. The public eye often views this situation as something easy to leave, but never acknowledges the mental and emotional power it takes to leave someone. Leaving is hard, as victims are often blinded to reality and create excuses and justifications for their abuser.
I recommend this book to middle and high school students, but I must warn you that there are some trigger warnings and only suggest it to those who are not easily affected by domestic and sexual violence. I believe it is especially important to those who are just starting to explore what "being in a relationship" means and what it feels like to be "in love." This book will help young adults understand that love should not be harmful and a minefield of confusion and distrust.