Investigative Reporter Marvel Jackson Cooke Drove Change in Her Community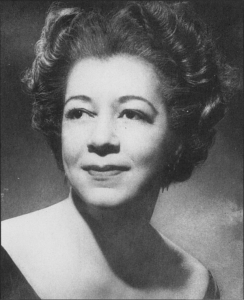 Born in 1901, Marvel Jackson Cooke was a pioneer in the world of journalism. As the only African-American woman in most of the positions she held, she broke barriers throughout her life, pushing for radical change and social justice. Cooke drew outside the lines and wasn't afraid of controversy. She focused on creating jobs for people who were considered different, specifically, Black people, in positions where only White men seemed to belong.
Marvel Jackson Cooke was one of the first African American students to attend the predominantly white Sydney Pratt Elementary School in Minnesota. In a 1989 interview Cooke stated, "It didn't bother me at all. I'm by nature an outgoing person, and I had a lot of friends." She majored in English at the University of Minnesota. While there, Cooke noticed that a friend she had had all her life sometimes pretended not to know her while on campus. Apparently, the friend was uncomfortable explaining her inter-racial friendships to her new boyfriend.
It was that moment that Cooke decided Minnesota wasn't where she wanted to spend her life. She expressed her excitement about moving to Harlem stating, "It wasn't south, but it was black, and I decided I wanted to come to Harlem."
Cooke moved to New York in 1926 to work as a secretary for W.E.B. Dubois, an editor for The Crisis magazine, which was the magazine of the National Association for the Advancement of Colored People. In 1928 she became the first female reporter at the New York Amsterdam News and The People's Voice in Harlem. There she helped organize a labor union, a unit of the American Newspaper Guild. She led an 11-week strike to protect the rights of newspaper journalists.
In 1950 she went to work for the Daily Compass. When interviewed in 1988 Cooke stated, "There were no black workers and there were no women." The Chicago Defender, a Black-owned paper, reported that Cooke was the first Black woman to get a job as a reporter on a White mainstream paper.
Because she had gained the trust of African-American people all over America, Marvel Cooke's race gave her a few advantages as a journalist. On one occasion, Cooke was assigned to cover murders committed by a Black man who had been released from a prison for the mentally insane. The family had insisted on a Black, rather than a White, newspaper reporter interviewing them to write the story.
Cooke also wrote about exploitation of domestic workers. She had been warned that employers sometimes turned their clocks back resulting in lower pay for their workers. Going undercover, Cooke discovered that the woman who hired her as a cleaner tried this, Cooke insisted that she be paid the amount she was promised for her labor.
After The Compass closed in 1952, Cooke decided to leave journalism. She spent much of her remaining career working for left-leaning organizations like the Committee for the Arts, Sciences, and Professionals, and later the Angela Davis Defense Fund.
Marvel Jackson Cooke changed the world, in very real ways. Her constant drive for racial equality and freedom of the press makes her story inspiring. Marvel Jackson Cooke is a reminder of the fighter in all of us. Everyone has the power to implement change, no matter our race or gender.
[Sources: The New York Times; Minnesota History MNopedia; blackthen.com]