Puss in Boots Sequel Set to Air Late 2022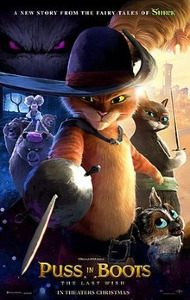 In 2011, the Puss in Boots movie was released. It was a spinoff of the hit movie "Shrek." Since the film's release, many films have been made and displayed on Netflix. Ten years later, Puss in Boots finally has its sequel! The sequel will center around Puss getting his nine lives back after losing eight. To get his lives back, he must go on a journey to find a genie to grant him a wish.
Before his own movie, Puss was one of the main characters in the Shrek franchise, appearing in Shrek's second film "Shrek 2," "Shrek the Third," and "Shrek Forever After." Puss' popularity increased so much that he went on to star in his own film, with the release of his next movie, Puss in Boots: The Last Wish. Puss is looking to start a franchise of his own.
If you're a fan of Puss in Boots, you should be on the lookout for the Puss in Boots sequel which is currently set to release before the end of 2022!
[Source: ign.com]