World's Smallest Sea Turtles Found Alive in Gulf of Mexico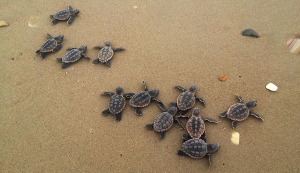 The world's smallest sea turtle, known as Kemp's ridley, lives in the Gulf of Mexico. In the past 75 years, the population has diminished to the point that they are now the most endangered sea turtle in the world. Recently, the sea turtle population has increased off the coast of Louisiana.
For the first time in 75 years, hatchlings were spotted in the Chandeleur Islands. When the state's Coastal Protection and Restoration Authority found the turtles, they found 53 sea turtle crawls and spotted two live hatchlings headed towards the ocean. Scientists found this discovery exciting. The hatchlings usually hatch two months after the turtles lay their eggs. The Kemp's ridley sea turtle has been endangered in the United States since 1970 and today it finds itself on the critically endangered list, meaning there is a high risk that they will not survive in the wild.
Another sea turtle known as Loggerhead is also an endangered species and the sea turtle was first found nesting on Louisiana's Grand Isle in 2015. Scientists have found these loggerhead sea turtles nesting the islands that the Kemp's ridley sea turtles are also nesting on. Most of all the nesting of these endangered sea turtles happened in the Gulf of Mexico.
Secretary of the Louisiana Department of Wildlife and Fisheries Jack Montoucet, stated, "The island's value to the region has been elevated. We are gaining a better understanding of the benefits this barrier island restoration may provide in the recovery of this endangered species across the Gulf of Mexico." It is important to monitor the health and populations of these sea turtles. Hopefully with more support, these sea turtles can make their way off critically endangered list and spread their nests to different places.
[Sources: CBS News; National Oceanic and Atmospheric Administration]