How a Rare Asian Bird Found a Home in Nevada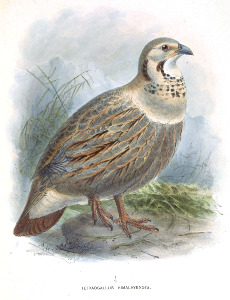 The Himalayan range in Asia is home to the largest and highest peaked mountains, including Mount Everest, where a rare bird species called the snowcock is found. Additionally, snowcock birds can be found in the Ruby Mountain range in the state of Nevada. Now, how did this rare bird species arrive from Asia to the United States?
It is quite interesting how these birds established a home for themselves on the mountains of Nevada. The Himalayan birds were considered to be good game for humans to hunt. As a result, the Nevada Fish and Game Commission brought a couple of birds from Pakistan and later took them to a farm in Nevada, where they thrived because the two places have similar climates. Over the course of 15 years, the birds were released into the wild, where they reproduced, found a stable home, and continued to grow their species.
The snowcock is a gray bird that weighs four to seven pounds and is about 22 to 30 inches in length. This species of birds create their nests on the ground close to rocks and grass in order to be protected from windy weather. Normally, they lay around four to six eggs. Shortly after hatching, hatchlings leave the nest to find their own food, looking for berries, grass, shoots, seeds and water.
Today, 200 to 500 of these birds can be found in the Nevada mountains, where they have now established their population.
[Source: National Geographic]