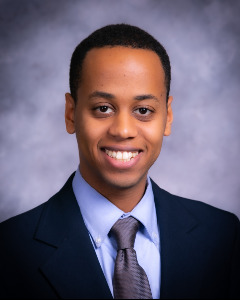 Negassi Tesfamichael is a former education beat reporter at
The Capital Times
. We recently had a chance to catch up with Negassi, who is finishing his first year at the Pritzker School of Law at Northwestern University. In his tenure at
The Cap Times
, Negassi covered important topics like the
SRO debate
,
a changing school board
, and
the challenges of keeping teachers in the classroom
. As students interested in media, we asked Negassi about his interest in the field of journalism. We were also eager to learn about his experiences in law school so far.
---
1. When did you become interested in the field of journalism? Did you major in journalism when you were in college?
A: I became interested in following the news a lot in middle school, partly because it was my way of getting to talk about current events. I think the 2008 election of Barack Obama got me interested in politics and current events more generally, and journalism felt like a way to participate in that. My high school had a student newspaper that I got involved in, which furthered my interest in the field as I got ready to go to college.
I majored in Political Science and English in college. Even though I did not major in journalism, I got a lot of journalism experience while working for one of UW-Madison's college newspapers, The Daily Cardinal. I've met people in journalism who did major in journalism and those who didn't—there really isn't a right answer, as long as you find ways to get some sort of experience.
2. What advice would you give to high school students interested in the field of journalism?
A: Do not be afraid to ask for help or mentorship from others. While it is obviously important to learn the writing, editing and interviewing skills to succeed in journalism, it is almost just as important to have a wide professional network that you can turn to when looking for jobs or other opportunities for development.
Also, be willing to adapt to the changes the journalism industry will likely go throughout your lifetime. Although the way people consume the news has changed, there will always be a need for providing timely and accurate information about what is going on in the world.
3. During your time covering the education beat at The Capital Times, what particular issues caught your attention most or did you find most interesting?
A: One that really stands out to me is school safety and how we define what it means to be safe. Part of that was obviously driven by the debate on whether police officers should be at the city's high schools, but it also involved other big questions such as how can schools make sure students feel safe and welcomed at their schools on a more emotional level. These issues haven increased in their prominence over my lifetime, and I imagine will not go away anytime soon.
The achievement gaps in Madison's schools also was an important issue. Obviously, everyone wants to find a way to close these persistent racial disparities but seeing how difficult it is to do so and how interconnected it is to structural racism in Madison more generally really caught my attention.
4. When you were the education reporter at The Cap Times did you find that certain stories were difficult to dig into? Or were there stories you wish had more time to explore or investigate?
A: Definitely. When I started at The Cap Times, I was relatively new to Madison. As a result, I had to spend a lot of time just getting acquainted with MMSD in general. I wish I had been able to do more stories where I interviewed students and got to highlight their perspectives on the issues that come up around the district. Those are the more difficult stories to do.
5. Did you ever file open records requests? Were those requests always filled in a timely manner?
A: Yes—filing open records requests with area school districts and the state's Department of Public Instruction was a regular task as part of my job. Some requests got filled much later than I would have liked for a variety of reasons. It is important to have persistence to make sure requests get filled.
6. As a former education reporter and now law student, what do you think about the recent 6th Circuit Court decision that says access to literacy is a fundamental constitutional right?
A: I think it's a really interesting case and I am encouraged to see a panel of judges rule in favor of the students who brought the lawsuit. Literacy is such an important and fundamental skill that every child should be able to access. It is nearly impossible to participate in daily life or to enjoy many of the Constitution's other protections without being able to access a basic minimum education. I'm not sure how the Supreme Court will rule if this case goes up to them, but I hope this notion of basic minimum education being a fundamental right continues to gain traction.
7. Looking back now and after covering the education beat for The Cap Times, what are your thoughts about achievement gaps in Madison?
A: It is really upsetting how pronounced the racial achievement gaps in Madison are. Obviously, it would be nice if there was some sort of "magic bullet" that could quickly close these gaps, but there are so many factors that have contributed to the gaps. Reversing those effects is not a quick or easy task. It is good that people are more aware of the gaps, but there will is a lot of work to be done to make any sort of dent in them.
8. What made you decide that attending law school was something you wanted to do? And how did you make that decision?
A: During my senior year of college, I took a class called "Law of Mass Communication" that I found really interesting. It made me think that I could possibly blend my interests in media and the law more generally, and that it might give me some flexibility career-wise. Though I still really enjoy journalism, I knew I wanted to get another degree at some point. This class helped me decide that the degree should be a law degree.
I also participated in a program at UW-Madison that helps students from underrepresented groups understand how the admissions process works, which helped me know what to do when I was applying.
9. Do think your background in journalism is helping you in law school? In what ways do your journalism skills translate to being a law school student?
A: I think my background in journalism helps a lot. A lot of the reading, writing and critical thinking skills that I had to use as a journalist are very important to being successful in law school. Being a journalist also forced me to be able to view issues from many different perspectives and to synthesize a set of facts, which is something that law students do almost daily.