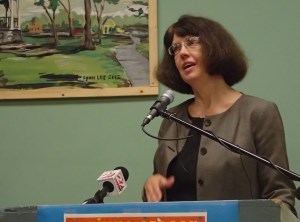 Marianne Morton, Executive Director at Common Wealth Development, announced her retirement after 35 years working for the company.
Morton completed her undergraduate degree at UW-Madison. Throughout her tenure, she volunteered with environmental groups, women's groups and organizations similar to Madison's Women's Transit Authority. She is also a part of the City's Inclusionary Zoning Committee and has been on the City of Madison Strategic Planning Committee for the Community Development Authority.
Morton began working at Common Wealth as a VISTA volunteer with the AmeriCorps program and was hired as permanent staff in 1983. From there, she rose through the ranks.
"We started with business and housing development along Williamson Street. There were a lot of dilapidated buildings and absentee landlords, and so our focus in those early years was on housing and business revitalization," said Morton.
She also worked on making new houses, helping youth with their workplace skills and money management skills and to incubate burgeoning small businesses. Most recently, Common Wealth started work outside the Wil-Mar neighborhood in Madison, and has worked on development throughout Madison and Dane County.
"One of our larger projects currently is the Garver Arts Incubator. The plan is to restore the historic Garver Feed Mill – on the grounds of Olbrich Botanical Gardens – for artists' space and galleries," Morton said.
Morton's favorite part about working at Common Wealth was being at the center of motion, solving problems and organizing ways to go through with the solutions.
"I would be miserable sitting on the sidelines," she said, adding that she loved working together with other people who care as much about the county as she does.
In February of this year, Morton was nominated for the ATHENA Award. This award is offered to people for their "outstanding achievement, service and assistance to women in reaching their full personal and leadership potential."
Many people in Dane County have been influenced by her leadership and passion for improving the community. Marianne Morton was a valued member of the company, and hopefully she will continue to honor her calling to make opportunities in Dane County better and more accessible to everyone.
[Sources: Community Shares of Wisconsin Press Release; Common Wealth]