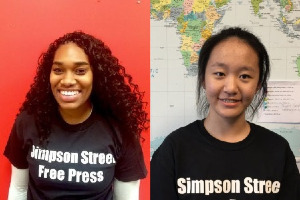 SSFP develops young journalists. Now we share exciting news about two of SSFP editors. Deney Li and Enjoyiana Nururdin are writing bold, new chapters in their journalism careers.
All of you know longtime student and editor Enjoyiana Nururdin, who was recently accepted at UW-Madison's School of Journalism and Mass Communication. Currently a sophomore at UW, Enjoyiana was recently awarded a summer internship with the NBC News Summer Fellows Program. She will be spending 10 weeks at the NBC Headquarters in New York and interning at the Weekend Today Show.
Deney Li is a senior at James Madison Memorial High School. Deney was recently accepted to the prestigious Medill School of Journalism at Northwestern University. Deney is a staff writer and teen editor for Simpson Street Free Press. She is also a columnist for her school's student newspaper, The Sword and Shield.
Both Enjoyiana and Deney began working at Simpson Street Free Press when they were in middle school. Deney will take over for Enjoyiana this summer. When Enjoyiana returns to SSFP this fall, Deney will be off to Northwestern.
"SSFP is a program deserving of support. They have a talented staff, a proven curriculum, and dedicated base of volunteers. But the final proof of the quality of the program is the students. They love the program and achieve great things when they go off into the post-SSFP world." - Hemant Shah, Director, School of Journalism, UW Madison
"The only security of all is in a free press. The force of public opinion cannot be resisted when permitted freely to be expressed. The agitation it produces must be submitted to." – Thomas Jefferson