Homegrown Talent: Maty Wilke Commits to
UW Women's Basketball Team
by Yani Thoronka, age 15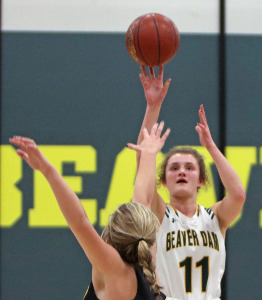 Maty Wilke, a 5-foot-10 guard from Beaver Dam recently committed to the University of Wisconsin Women's basketball program. Wilke announced her decision to the UW coach Jonathan Tsipis over a facetime call in August.
"I just couldn't see myself wearing another jersey," said Wilke. "It's just being a Badger, wearing red and playing for my hometown fans and turning around the program, it just seemed right. Nothing else really seemed to fit in my head."
Wilke is considered a top recruit and has received national attention. Over the years, she has remained one of Tsipis' top recruiting targets. And with so much talent, the list of recruiters is extensive. The first was North Dakota, the summer before eighth grade. Since then, Wilke has received several other offers including all three of Wisconsin's Division 1 programs and eight other schools from the Big Ten Conference. Through much thought and consideration, Wilke's finalized list of options came down to UW, Marquette, Minnesota, Utah and Iowa.
Wilke explained that the presence of Beaver Dam teammate Tara Stauffacher and Monroe's Syndey Hilliard was a driving factor when making her decision to attend the UW. Both Stauffacher and Hilliard joined the UW program last year as promising in-state recruits for Tsipis. In addition, former Madison Edgewood player Estella Moshkau, someone Tsipis recruited out of high school, will be joining the program as a grad transfer from Stanford.
Wilke expressed excitement about the upcoming season with her new teammates. "I feel like we have a good core group of girls. We all have the same goal and just want the program to do well," she said
Currently an upcoming senior at Beaver Dam, Wilke will be joining the program as a 2021 graduate. Her performance last season raised eyebrows among recruiters when she averaged 16.6 points, 7.4 rebounds, 4.8 assists, and 3.6 steals per game. Wilke almost led her team to a fourth WIAA state title in a row, which would have made Beaver Dam the first Wisconsin girls program to accomplish that feat.
Unfortunately, the season was cut short due to the COVID-19 outbreak, leaving the team two games short of the title. Nonetheless, Wilke claimed first-team All-State honors.
Beaver Dam coach, Tim Chase, Wilke brought a lot to the team and that statistics don't even begin to measure what Wilke brings to a team. "She does whatever is needed for every kid on the team and will do whatever the team needs. She just had a true passion for basketball and is the kind of player who is always working to get better at her craft and become a better player," Chase said.
Wilke has been ranked No. 76 nationally by ESPNW's HoopGurlz and is among three of the 2021 class who will be joining the UW program. Recent recruiting success has created buzz around the UW Women's team. Wilke believes the new and upcoming players bodes well for the future and hopes she "will become part of a group that turns the UW program around."
[Sources: Madison.com; NBC 15 News; wiscnews.com]