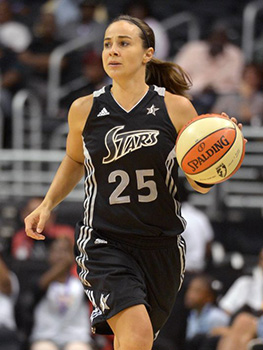 Six-time WNBA All-Star, Becky Hammon was hired as an assistant coach for the San Antonio Spurs earlier this fall. This makes her the first female paid full-time coach for an NBA team.
Currently in her 16th WNBA season, the last eight of which have been with the San Antonio Stars~ Hammon plans to retire later this year. In 2011, she was named one of WNBA's top 15 players of all time. She also ranks 7th in the WNBA for points, totaling 5,809. Additionally, she ranks 4th in league assists with 1,687, and 6th in total games played with 445.
Hammon achieved these ranks during a knee injury she suffered in her 15th season. During the time she was not playing, due to this injury, Gregg Popovich, the head coach of the San Antonio Spurs, invited her to the team's practices. Popovich is confident that Hammon will help carry the Spurs to the national championship for the second time, and he believes she will be a "great benefit to the Spurs."
Hammon already has a solid relationship with some of the team members. For example, she befriended Tim Duncan and Tony Parker in 2008 at an all-star shooting competition. Members from the teams around the league are also supporting Hammon in her transition. Kobe Bryant has been a Hammon fan since she was in college.
Hammon hiring may be the start of increased female presence in typically male dominated positions. Nancy Lieberman, Hall of Famer who coaches the Texas Legends, commented, "A glorious day for the NBA and an awesome day for women." Indeed, this is an opportunity for many to see that women can be just as equipped to manage sports as men.
[Sources: ABC News; kens5.com]