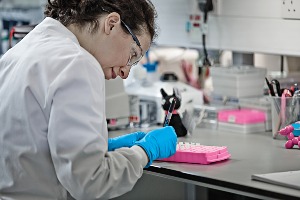 At age 24, Matt Hiznay, a second-year medical student at the University of Toledo, was diagnosed with stage IV lung cancer. Stage IV means that the cancer is deadly and survival is slim. Only one percent of stage IV cancer survivors can say they beat cancer.
Determined to not let it defeat him, Matt went through the treatments. At age 29, due to progressive treatments, Matt's cancer was in remission and under control. Thanks to a specific gene mutation that was discovered during his treatments, he was eligible to enroll in a phase I clinical trial. Phase I clinical trials are used to study drug's side effects and toxicity. Because of his great experience with the progressive treatment, with virtually no side effects, Matt decided he would become a full-time cancer researcher. Instead of completing medical school, he later joined the Cleveland Clinic's Molecular Medicine PhD program where he is studying gene mutations in cancer growth, a subject matter close to his heart.
Ted Johnson, a researcher who has dedicated his life to fighting cancer, developed the specific genetic mutation targeted-therapy that helped save Matt's life. Ted became interested in cancer research after losing his 62-year-old mother to cancer. He believed the treatments his mother received were not effective. This motivated him to look for an answer.
Many other researchers like Ted continue to search for and develop methods to help people like Matt every day. Scientists now have a better understanding of genetic mutations in cancer, which allows for personalized medicine approaches for individual patients. More and more people with cancer are now able to survive past stage IV diagnoses.
[Sources: Cleveland Clinic; Innovation.com]