Adaeze Okoli Named New Senior Teen Editor

by Taylor Kilgore, age 15, and Alex Lee, age 13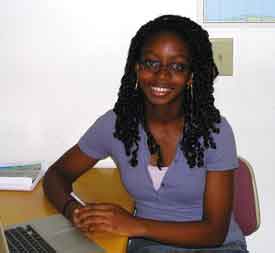 Veteran Simpson Street Free Press columnist and reporter Adaeze Okoli was recently named Senior Teen Editor of our paper. Adaeze is a junior at Middleton High School and has been a Free Press staff writer for more than four years.
Adaeze is a member of the Simpson Street Free Press arts and museums planning team and a graduate of our Summer Media Institute. She writes a regular column in the Free Press covering issues related to young people, education, and academic achievement. Adaeze's column is called "The Gap According to Okoli."
"The Gap" is an ongoing Free Press feature launched as part of our Bridging the Achievement gap initiative in 2006. Cydny Black was our first columnist and, after she graduated from Madison Memorial, she passed the column on to Deidre Green.

In 2008 Deidre was recognized with a prestigious Wisconsin School Bell award for journalism because of her work on this column. When Diedre graduated from Lafollette High School, she passed the column on to Adaeze. Adaeze continues the legacy, encouraging students to become high achievers and connecting with readers by sharing her own experiences with the achievement gap.
Adaeze is an A+ student who believes that if you don't put in the time, you don't get results. Adaeze says that her parents have instilled in her the importance of education and the effect of it in the future. She currently enjoys social studies and is now taking an AP European history class that she says is very exciting.

As for her college plans, she would like to attend a university and wants to study a wide range of subjects, from neuroscience to journalism. After college she plans to attend medical school.
Adaeze has had a passion for writing since she was in elementary school. She feels that writing is the coolest form of communication and is a way to express yourself that is different from face-to-face communication. She says, "everyone can speak, but not everyone can write."
When she first joined the Simpson Street Free Press five years ago, she was excited to take her writing to the next level. Now that she is our Senior Teen Editor, she is excited about her new responsibilities.
Outside of school, Adaeze also focuses on extracurricular activities and clubs like Model United Nations, a club that debates world issues using the views of different countries. She is also part of the Key Club, which provides volunteer opportunities. Adaeze also participates in track & field, which she especially loves because she has independent control of her performance, unlike basketball or volleyball.
Even after her clubs and sports, she still finds time to spend with her family, play the piano, and read her favorite books.
We are excited to have Adaeze as our new Senior Teen Editor and look forward to learning from her experience.